Stokes Marine Boat Lift Reviews—Southwest Florida Marine Contractors
January 05, 2021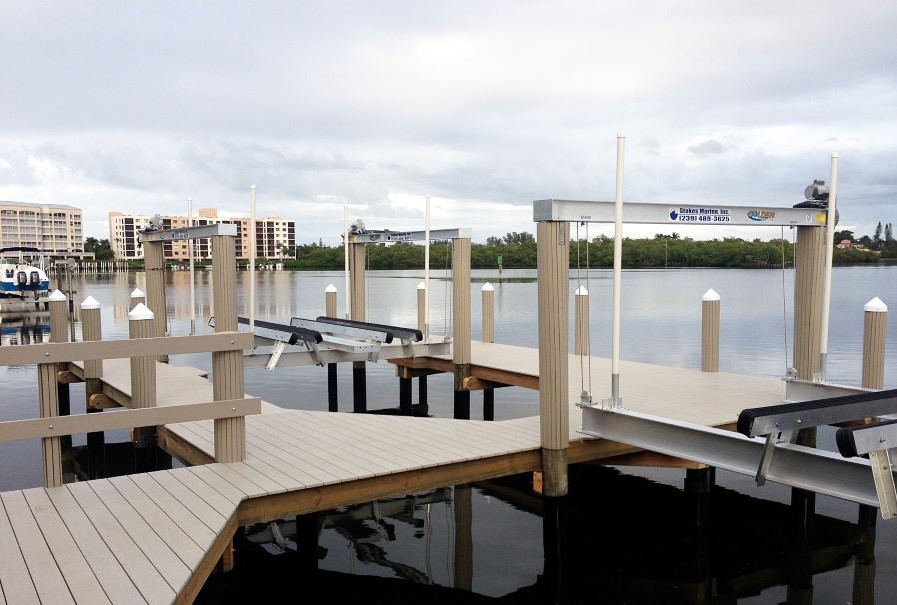 Serving the people of Southwest Florida for all their dock and boat lift needs is our absolute pleasure and nothing makes us prouder than seeing happy customers. Check out what some of our past customers have had to say about our team, our services, and our commitment to delivering top-notch marine construction.

Southwest Florida Boat Lift Reviews
In a world where 'OK' is good enough, this company stands out from the rest. I had an 80' dock, boat house, and lift installed because I saw the work they did across the canal; now the neighbor next to me is having it all done as well.
Their material is crazy good; giant poles, massive runners, framing. and no lack of stainless steel, everything on the dock is stainless.
They are not the cheapest of the 5 quotes i took but they are the best. I am so happy with the way Stokes did the work, the quality of everything, and the communication. This is a busy company—you have to book months in advance—but they're worth it. I recommend this company to everyone who wants a really good dock or boat house. I am a very picky guy, but these guys are great.
David G.
Stokes Marine is an outstanding contractor. I used them to completely replace and upgrade my existing (boat)lift in Naples, FL. In my case, I had some tight timelines I was working with. Stokes Marine committed to those timelines and delivered on every single element of my schedule, even when it required some overtime from their electrical sub.
Their workmanship was great and the installers were a pleasure to deal with. Matt Felton is a man of his word and he came up with an excellent access solution for my new lift that was vastly superior to what I had. And by the way, when you add some scope or change something, they take care of it quickly and more than fairly.
I own a construction contracting business myself. We have been very successful over the years because we put customer service above all else. I'm picky about contractors. Stokes earned all five stars and if this review page would let me award a sixth star, I would. Highest recommendation.
Patrick C.
Have used Stokes Marine for years. They are top notch when it comes to customer service! Had an emergency where our lift's electrical system was struck by lightning which caused half the lifts to not work. We had an important filming for Bonefish & Tarpon Trust, Florida Fishing Products, and Costa Project Permit the next day with marine biologist and film crews coming from out of town in just hours.
Stokes marine sent a technician to manually get our boat in the water for this very important project! Can't thank them enough for coming out after hours and on a Sunday to help us out. They are the best in quality and service!
Capt. Bill H.
It was a fantastic experience dealing with Stokes Marine! Their follow-up, friendliness, timeliness, professionalism, and workmanship were excellent. Phil was our initial contact and stayed with us through the entire process. He made numerous trips to the house to make sure that our new boat lifts were perfect in every respect.
The design staff, installers (and the remainder of the field staff) were great! As the project progressed, we were made aware of what was going to happen each day with a telephone call or personal visit. We have had to 'babysit' several contractors over the years here in Florida, but not Stokes Marine. Everything was as promised!
Dave E.
I've really got to take my hat off to these folks! I had a rather large and complex project to be done and these guys did an awesome job. I needed to switch out my 13,000 pound lift and replace it with a 16,000 pound lift. I also needed my dock widened, the primary pylons replaced, and some repairs done on the existing dock. I also needed my lift cover / canopy reconfigured to allow for a much taller boat.
The Stokes management and crews did everything professionally and quickly. They scheduled around several other issues I was having getting my boat ready for the water. I was super impressed with their entire team!
One day, while they were out working, a small dog had fallen into the canal. Without regard to his safety one of their crew jumped in, swam across the canal and pulled the pup to safety. During this event, the crew member became fatigued and started to get into trouble himself, so another crew member was preparing to jump in and save him, but the distressed swimmer managed to swim back to the other side where he was pulled out and driven back around to my side again. Such a heroic and brave act by a guy who just saw a puppy drowning and decided to save it! Great job guys!
I could not recommend a more professional and knowledgeable organization. Their pricing was fair and reasonable. Their crew was able and had all the tools to do the job correctly and quickly. And their managers were a pleasure to work with. Thank you for a job well done!
Stephen K.
---
---
If you have any questions about a future marine construction project or are ready to take the next steps toward a new boat lift for your dock, contact us to speak with a member of our team and get started today.
Topics:
Boat Lifts