Stokes Marine Dock Reviews—Southwest Florida Marine Contractors
January 21, 2021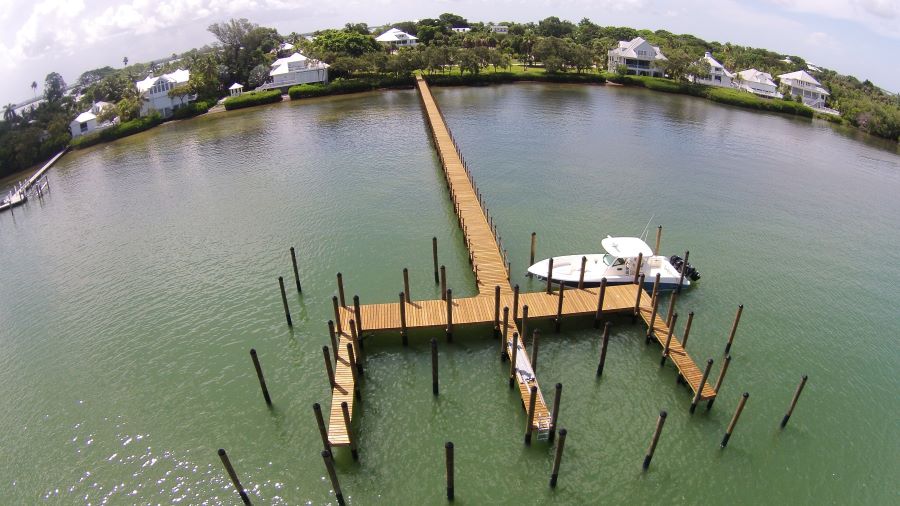 We're proud to serve the people of Southwest Florida with all of their dock, boat lift, seawall, and other marine construction projects. Nothing makes us prouder than seeing happy customers and reviews from the positive experiences we're able to provide to people all over the gulf coast.
Check out what some of our past customers have had to say about our team, our services, and our commitment to delivering top-notch marine construction.
Southwest Florida Dock Construction Reviews

Stokes Marine installed my dock with a Tiki hut and a boat lift. I hated to see them finish the job because all of their workers were so pleasant to be around!
There were many different crews installing various parts of the project and as a business manager I was impressed with the coordination, timing, management and quality of the entire project. I would highly recommend this company for a new dock installation. Very satisfied.
Jerry D.

---
After interviewing five different marine construction companies, there was NO doubt I wanted to work with the professionals at Stokes Marine.
The entire process was better than I ever could have imagined. Right from the first call to have Phil come out and give me an estimate (Phil is the man!). I Could not have had better service and guidance on a job that I knew very little about, (Phil) is knowledgeable, patient, easy to work with, and always made sure, through the entire project, that I was okay with everything.
To the barge team, Lewis and Triston, these guys were true professionals, always made sure I was okay with everything, and did a fantastic job!
Now, the frame crew, all I can say is Shawn is a beast. Shawn set the pace for his team, worked non stop every day, always checking with me to make sure I was happy with everything and told me 'here at Stokes, we want to make sure our customers are Happy.' That was music to my ears.
Mr Stokes, as a business owner myself, I commend you on having the best team of individuals who, again as a business owner, would be more than proud to call my Stokes Marine Family. You have something good there when each staff member tells me when I talk to them how they love their job!
Thanks for making a big project go so smoothly. You guys are the best in the business! Keep doing what you're doing!
Joe G.

---
I just purchased a boat and needed to make sure my lift and dock were ready to accept it. Stokes Marine did a fantastic job of coming over and giving me an honest assessment of the condition of my lift. Another company in town did not, they wanted to charge me for new cables that I didn't need! They assessed my lift and replaced only the items that needed replacing. They were there to make sure the bunks and lift were set correctly when I brought the boat home and took the time to answer any and all questions I had. I will definitely be calling this company again when I need service for my lift/dock!
Brent D.
---
When I bought my retirement home in Cape Coral, my first priority was to buy a boat, have a dock built, and install a lift. I selected Stokes Marine as my Marine Contractor because other companies talked about what they would do but Stokes came with computer generated plans and experience.
They gave me a strong sense of confidence. The dock was built while I was in New York and the project was professionally managed. Guess what...I flipped houses and Stokes did the same professional job again. Great company and great people working for them. I highly recommend Stokes as your Marine Contractor.
Lucian P.

---
From Day 1 when my husband, Tim, walked through their door it has been an amazing experience. Phil LeBoutillier greeted him and helped us create our vision. The communication throughout the engineering process all the way to the final nail was top notch.
Outstanding professionalism and quickness! The framing crew of Luke, Harry, and Joey felt like family given we had a large project to complete so they were with us for a length of time showing up promptly each day, working diligently, and cleaning up at the end of day.
The end results were even more spectacular than what we had created on paper. HIGHLY RECOMMEND Stokes Marine for any type of dock projects! We ended up with a new pier, captains walk around the boat lift, kayak and jet ski dock area.
Teresa C.
---
The work done was excellent and we are most grateful. While that is enough to warrant this note, there is much more that needs to be mentioned. Clearly, you have created a "culture" at Stokes that goes way above and beyond. Whether it was Matt or Travis or Miguel or the team of hard workers who showed up, their attitude and kindness was amazing. This speaks to a leadership at Stokes that values the human connection as well as the gritty work ethic.
You can be sure that we will suggest Stokes to anyone looking for Dock work, etc…It is refreshing to deal with a company such as yours. Please be sure to let your staff know how much we value their hard work…and their kindness.
Marge Z.
---
---
If you have any questions about a future marine construction project or are ready to take the next steps toward a new dock for your waterfront property, contact us to speak with a member of our team and get started today.
Topics: